Ride the Trolley – See the Fireworks!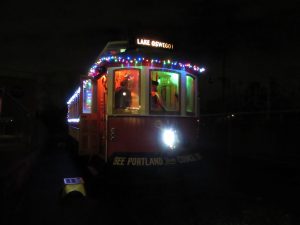 ---
Quick Details
Date: Wednesday July 4th
Departure time: 8:30 p.m.
Fares: $25/person (no lapsitters)
Call for reservations: 503-697-7436
Fireworks Trolley
Watch the Oaks Park Fireworks display from the comfort of our trolley. The trolley will run from Lake Oswego to an unobstructed viewpoint for the July 4th celebration. Come ride with us for this unique visual experience!
Tickets must be purchased in advance ($25/person) by calling 503-697-7436. Seats are extremely limited (leave a message)!
Food: No alcohol allowed. You may bring your own soft drinks and water (closed containers only please). Snack foods are also permitted as long as they may be cleaned up easily.
Cancellations & Standbys: Cut off for cancellations is Saturday June 30th at 3pm. No show seats will be sold to standbys at 8:30pmpm