Ride in a Vintage Trolley from Lake Oswego into a dark tunnel and meander through posh neighborhoods.
You will ride on a historic rail line dating from the late 1800s, the tunnel dates from 1921. At one time, electrified interurbans ran on this line from Portland to Oswego and Hillsboro, McMinnville, and Corvallis. The Vintage Trolley is a replica trolley in the style of Portland's Council Crest cars. Two of the original cars can be found at our museum in Brooks. Before coming to the Willamette Shore Trolley, the Vintage Trolleys formerly ran on the MAX Line and Portland Streetcar.
Learn more about the WST History and our trolleys
Click Here for Google Maps Directions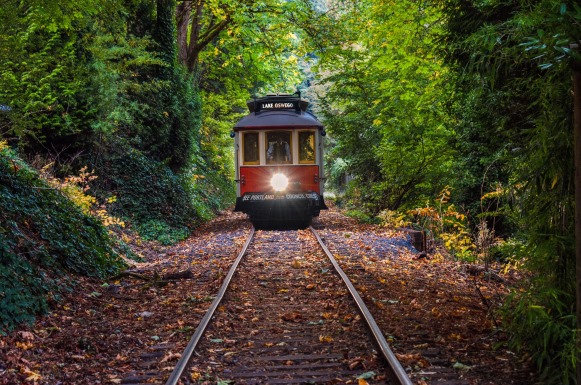 For 2023, the trolleys run from downtown Lake Oswego just south of Riverwood by the large trestle
> Click here for schedules and tickets! 
The WST has special events throughout the year. The most famous event is the Christmas Ships runs held in December.
Our trolleys are also available for charters for birthdays and other celebrations or activities