Let's Talk Trolleys are a series on virtual presentations about the history of streetcars and Interurbans in Oregon, and about our museum's trolley collection. This is to help keep us connected while our trolley operations are suspended. The presentations are free to attend (pre-registration is required), donations are appreciated to help the OERHS maintain our historic trolleys.
The WST will follow anY Government advisories based on the COVID19 before starting the 2020 season. At this time our public trolley operations are suspended, including charters.
We will announce here and on our Facebook page when we will start training and regular trolley service.
Willamette Shore Trolley
Take a scenic trolley along the Willamette River
Ride in a Vintage Trolley from Lake Oswego into a dark tunnel and meander through posh neighborhoods. Soon you will be on a high trestle overlooking the beautiful Willamette River. Continuing along the river you will pass through Powers Marine Park before ending your journey at the Southwest Portland waterfront district at Bancroft and Moody Streets. It is just a short walk to the Portland Streetcar and Tram.
You will be riding on a historic rail line dating from the late 1800s. The tunnel dates from 1912. At one time electrified interurbans ran on this line from Portland to Oswego and on to Hillsboro, McMinnville, and Corvallis. The Vintage Trolley itself is a replica trolley in the style of Portland's own Council Crest cars. Two of the original cars can be found at our museum in Brooks. The Vintage Trolleys formerly ran on the MAX Line and Portland Streetcar before coming to the Willamette Shore Trolley.
Willamette Shore Trolley
311 N. State Street
Lake Oswego, OR 97034
Phone: 503-697-7436
Schedules & Fares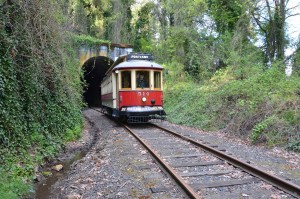 Scheduled Trolley Service runs Saturdays and Sundays thru the end of October
Trolleys run from downtown Lake Oswego to the SW Portland Waterfront at SW Bancroft & Moody streets, just a short walk from the Portland Streetcar Lowell St. stop.
The WST has special events throughout the year. By far the most popular event is the Christmas Ships runs held in December.
Our trolleys are also available for charters for birthdays and other celebrations or activities